SiriusPoint Ltd., the international specialty insurance and reinsurance company in Bermuda, started today with more than $ 3 billion in start-up capital.
The company was formed by the merger of the special reinsurer Third Point Reinsurance Ltd. and Sirius International Insurance Group Ltd., a multi-line insurer and reinsurer. The agreement was first announced in August 2020.
SiriusPoint has been launched as one of the first significant Class 2020 reinsurers, with a robust capital structure, a global platform, underwriting talent and already existing client-brokerage relationships, the company said in a statement.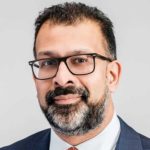 'It's a strategic union of two extremely complementary organizations. SiriusPoint is an opportunity to leverage our common strengths and refocus our organization on profitability, innovative partnerships and solutions, "said Sid Sankaran, CEO and Chairman of SiriusPoint.
"Our footprint combined with the ability to be nimble and responsive will really differentiate," he added.
'We strive to be a disruptive force in the industry and to drive technological innovation – with capable endorsement at the heart of everything we do. We have set ourselves the goal of challenging the status quo and defining new ways of doing business with diverse thinking and expertise. I am very excited about our future. We build a company and a culture we can be proud of. '
SiriusPoint is built on a global platform that provides insurance and reinsurance solution services to clients and brokers in almost 150 countries with access to authorized and non-authorized paper in Europe, the USA, Bermuda and Lloyd's of London. A new division, Insurance and Services, has been established to seek strategic investment and partnership opportunities.
SiriusPoint's insurance lines include environment, property, energy, workers' compensation, aviation and space. The company's reinsurance lines include lives, accidents and health, property, marine and energy, casualties, aviation and space, and credit and mortgage. SiriusPoint also offers run-off solutions.
SiriusPoint also announced the appointment of two new members to the board:
Franklin (Tad) Montross is the former chairman and CEO of General Reinsurance, a Berkshire Hathaway-owned company, and until 2016 was responsible for global underwriting policies, practices and protocols, as well as its actuarial and risk management areas.
Sharon M. Ludlow is an experienced C-suite executive and corporate director, with more than 25 years of experience in life and health, and real estate and casualty reinsurance and insurance industries. During her career, Ludlow served as President and CEO of the Canadian operations of Swiss Re and as President of Aviva Insurance Company in Canada.
As previously announced, Rachelle Keller, a director of Sirius Group, and Peter WH Tan of CM Bermuda Ltd., also joins SiriusPoint's board. The remaining members of the board will transfer from their equivalent roles at Third Point Re.
Source: SiriusPoint Ltd.
Related:
Interested in Carriers?
Get automatic alerts for this topic.